November 03, 2023
One Health Day Spotlight: Surveillance at the Human-Animal-Environment Interface in Indonesia, Thailand and Vietnam
We all know the impacts that the COVID-19 pandemic has had on people - economic, social, and cultural. But did you know that SARS-CoV-2 has also been discovered in multiple animal species around the world?

Beginning in June 2021, HSP and the Centers for Disease Control and Prevention partnered with researchers in Indonesia, Thailand, and Vietnam to study SARS-CoV-2 at the human-animal-environment interface. The goal of these projects was to learn more about SARS-CoV-2 transmission and increase preparedness for SARS-CoV-2 and other emerging disease threats.

As part of these efforts, a research team at the Center of Excellence for Emerging and Re-emerging Infectious Diseases in Animals, and One Health Cluster, Faculty of Veterinary Science, Chulalongkorn University in Thailand (CUEIDAS) conducted a retrospective screening for coronaviruses including SARS-CoV-2 from archived captive and free-ranging wildlife samples collected in areas of human and wildlife interaction.

In Indonesia, a team at the Mochtar Riady Institute For Nanotechnology (MRIN) collected samples from animals and people to detect SARS-CoV-2 and other zoonotic and emerging viruses at caves inhabited by bats and rodents. These caves are visited by people because they are of religious and cultural significance in Indonesia.

This is the first study in Indonesia to study SARS-CoV-2 at the human animal interface. It involved critical collaboration across six institutions, and has already resulted in changes at these caves to reduce risks of zoonotic disease spread between people and animals.

Also in Thailand, partners at the Faculty of Veterinary Science at Mahidol University collected samples from exotic pets at animal hospitals, and scavenging animals and environmental samples at garbage dumping sites in Thailand to detect SARS-CoV-2.

Finally, the Wildlife Conservation Society's (WCS) Viet Nam Program, in collaboration with the Department of Animal Health (DAH), has collected more than 2,000 samples from various animals across Vietnam, including domestic and wild animals, to help establish a SARS-CoV-2 surveillance network in the country.

This study has already helped to build partnerships and establish processes for animal sample collection and testing. This surveillance network can be used for other endemic and emerging diseases to prevent, detect, and respond to zoonotic diseases more rapidly.

Results from these research efforts can help us understand the types of naturally circulating coronaviruses in captive and free-ranging wildlife, companion animals, and the environment that may pose a risk to public health or conservation in the future. HSP and CDC are thankful for the hard work conducted by partners in Indonesia, Thailand and Vietnam and look forward to supporting similar efforts in the future.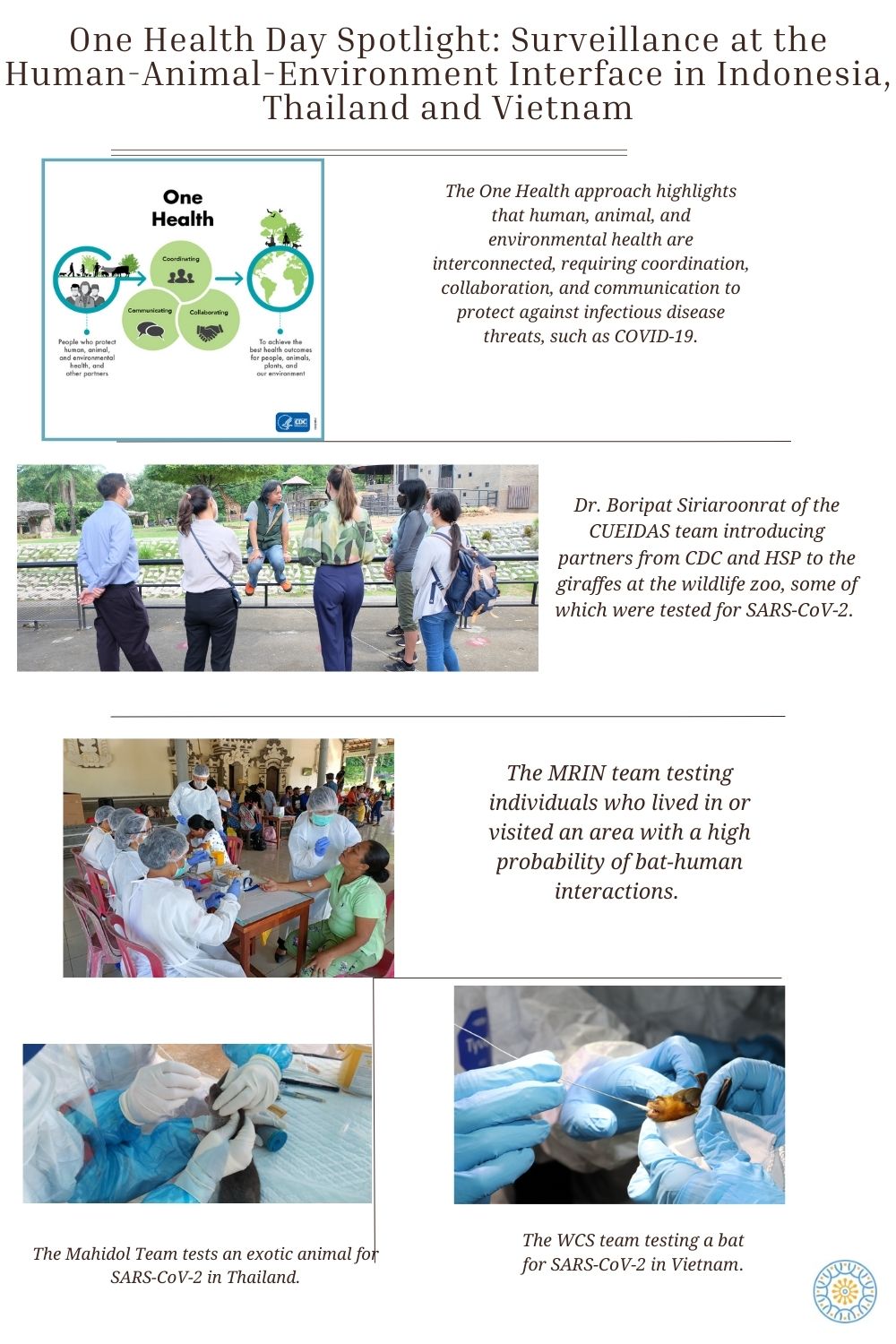 ---
Next Article
Previous Article